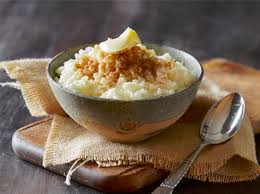 Nation: Denmark
Type: Dessert
Origin: Denmark
Main ingredients: 3 dl water, 180 g rice (porridge rice), 1 L whole milk, 1/4 tsp. salt
The Risengrød is a traditional christmas food in Denmark.
In Denmark there is a tradition, where we place a bowl of "Risengrød"on the attic. We do it so the Christmas Elf living there, will behave and bring the children gifts and treats.
In the old days, farmers fed the chrismas Elf, because he then would help out on the farm – the crops/harvest would be a succes. If the farmer didn't feed the Elf "Risengrød" – the crops/harvest would fail.