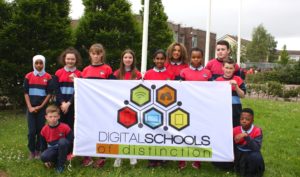 St. Mark's Senior National School is situated in the parish of Springfield, Tallaght. It opened in 1973. The first principal was Diarmaid MacMathúna. Our present principal is Mr. Richard Walsh. St. Mark's is a co-educational, Catholic, primary school which strives to provide a well-ordered, caring, happy and secure atmosphere where the intellectual, spiritual, physical, moral and cultural needs of the pupils are identified and addressed. While Saint Mark's is a school with a Catholic ethos, it also has due recognition for all other religions.
There are approximately 525 pupils, ranging in ages from 8 to 13 years of age. The school currently has 26 classrooms. The school aims to provide a bright, attractive and stimulating learning environment for the children.
Déanfaimid iarracht Gaeilge a labhairt.
Our school motto is: "Ar scáth a chéile a mhaireann na daoine".
Digital Schools of Distinction (DSoD): St. Mark's received the Digital Schools of Distinction Award on 24th September 2015 from Brian Hayes M.E.P. In St. Mark's we believe that, used effectively, ICT is a powerful tool to enhance teaching and learning.
Green Schools: We received our 4th Green Flag for Travel in May 2015 in the Helix Theatre, Dublin City University. The school has been awarded Green Flags for Litter and Waste, for Energy, for Water and for Travel.
The Green Schools Committee inform the school community about links between climate change and transport.
The JDO Foundation: The JDO Foundation is an educational non-profit organization in Denver Colorado whose mission is to provide an enriched educational experience for pupils by providing state of the art technologies and the professional training to the educators managing these technologies. They have worked successfully with schools in their local area but want to extend their work in digital education globally.
They have generously agreed to work with a number of Irish primary schools. They have set up a collaboration project with St. Mark's S.N.S that will run for a period of three years. The aim of the project is to enhance the ICT skills of the pupils and teachers involved in with these new technologies. This is a wonderful opportunity for our pupils to engage in and learn to become confident global digital citizens.
People involved in the project:
Richard Walsh – Principal
Clodagh Whan Deputy Principal
Martin Durkin – ICT Co-ordinator
Paul O'Connor – class teacher
Jimmy Barker – class teacher
Bernie Jones – Resource Teacher
Carina Campbell – E.A.L. Teacher
Michael Daly – class teacher
Karina O'Connor – class teacher
Sean Daly – class teacher
Michele Noble S.E.N coordinator
Laura Devaney – class teacher
Denis Hegarty – class teacher
First Transnational Meeting Dublin
St. Mark's Senior School co-hosted the first transitional meeting with Sacred Heart Senior National School. The visiting teachers were welcomed to the school and were given a reception and a display of entertainment by the students in the hall. The pupils were delighted to have visitors from Denmark, Italy, Finland and other parts of Ireland. The teachers visited different standard classes and also the computer room. During the visit the pupils engaged with the teachers to show them how they interacted and learned using digital technology throughout their school day in St. Mark's.
Friendship Week
As part of our Erasmus+ project we coordinated International Friendship Week in April. Children were asked to present projects on a variety of countries. They learnt about International cuisines and were invited to prepare recipes and food from the different International countries which were exhibited in the school hall for parents. Each class was encouraged to participate in a poster and slogan competition to promote friendship amongst the school community. A story board video was created by the pupils to emphasise the importance of Friendship Week.
International Cookery Book
Pupils and teachers have completed a number of projects for the International Cookery Book: Ginger Bread Cookies, Christmas Oaty Shortbread Biscuits. 'Favourite Recipes' videos and images were prepared during 'International Friendship Week' for our hall displays. They also presented a cookery demonstration as a video and made it available on the project website.
e-Twinning Project
There are currently 5 teachers engaging with the e-Twinning project in the school. The teachers regularly communicate with their partners in Italy, Finland and Denmark. Children collaborate with other children in the different countries in a variety of ways. They use a variety of digital ways of communicationg: email, slideshows, Hangouts and Skype. We have also used Web-Ex successfully for group conferencing. We look forward to increasing our project activity and interactions with our international partner schools.
Christmas Cards Exchange
As part of the Erasmus project, it was agreed to exchange Christmas cards on an annual basis. This has proved very popular with the students. Each year the children are given a different theme to represent on their cards. Cards are sent both digitally and in the traditional way. The children have benefitted greatly from exposure to the different styles of art from the different countries.
DIFI Mascot Project
DIFI has been very busy! He is very much part of our school community and is very popular with the children. He visits all of the classes and is always available to take part in any activities in the school. DIFI has been involved in the following activities: Halloween Party, Christmas dinner, Christmas Concert, Science Week, Gardening, Scavenger Hunt and Athletics. As part of the project, the school has recorded DIFI's adventures in both image and video.
Internet Safety Week
As part of Internet Safety Week, all classes were asked to engage with www.webwise.ie. This is an excellent site which encourages pupils to behave in a safe and responsible way when using the internet. Lessons are interactive, age-appropriate and learning content is supported by video. We have produced posters and videos on the above topic and shared them between the partner countries.
Benefits of this Project for Our School
What do our teachers think?
3rd Class
Teachers in 3rd Class have participated in e-Twinning this year with partners in Finland and Denmark. The children have significantly improved their ICT skills through regular communication via e-mail with their European partners. Google accounts have been set-up for the children and they have worked collaboratively using Google Docs and Google Hangout. The e-Twinning project has fostered even greater enthusiasm for ICT in our school. The children thoroughly enjoy interacting with DIFI. He has enhanced pupil motivation and is on-demand for regular visits. Children have worked on their touch typing skills through the use of typingclub.com and have become more proficient at coding through the use of Scratch and code.org.
4th Class
The project, especially DIFI and sending Christmas cards etc., helps teachers to keep the children motivated and engaged. They have a greater sense of ownership of the project and love to share their experiences with their European partners. The children used digital cameras to record their learning activities with DIFI. They wrote about their activities digitally. Teachers in 4th class have also engaged in e-Twinning with a school in Finland.
5th Class
The children have had collaborative opportunities in working with children from other countries. They have developed friendships and have become responsible digital citizens in tem. They thoroughly enjoyed designing Christmas cards and sending them to their European partners. They participated fully in Friendship Week activities. DIFI was a fantastic resource to create a link between home and school. He had many adventures during the course of the academic year, of which we recorded many. Recently, the children had a visit from a group of Italian teachers involved in the e-Twinning process. They showcased some of their own digital work from throughout the year, including Seesaw, Google Classroom, Google Slides and Kamigami robots.
6th Class
The 6th classes have been busy with eTwinning during the year with Italian schools. They have been creating and publishing Kahoot quizzes. They have been publishing their work and sharing with other pupils in partner schools. The older pupils have become mature digital citizens and this was evident in their end of year projects on Global Digital Citizenship. The pupils have enhanced their digital literacy and numeracy this year.
What do our pupils think?
First Transnational Visit – children were eager to display their digital abilities and achievements to our visiting teachers.
International Friendship Week – children enjoyed exhibiting their projects, recipes and artefacts to parents during International Friendship Week. They created digital slideshows and completed research on 19 individual countries.
Christmas Cards – children enjoyed sending and receiving Christmas Cards from our European partners.
DIFI Project – DIFI has increased pupil motivation and knowledge of other countries.
Google Hangout – children enjoyed engaging socially with their partner schools through Google Hangout.
Erasmus Plus – children enjoyed navigating the Erasmus project website and watching videos uploaded by our European partners.
Website
Contact
principal@saintmarksns.ie
saintmarksict@gmail.com